Professional Service
We are a professional full service blade sharpening company with  over 25 years experience.
Read more
Upcoming Shows
Find Sal's Blade Shop at up-and-coming grooming shows, pet trade shows, dog shows, and product shows.
Read more
About Us
Scissor Sharpening & Blade Sharpening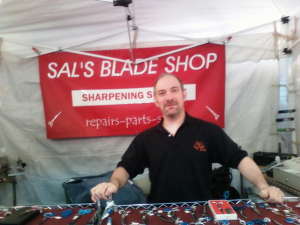 We are a family owned and operated business with over 25 yrs experience.  FACTORY TRAINED USING FACTORY EQUIPMENT offering PROFESSIONAL SCISSOR SHARPENING, and CLIPPER BLADE SHARPENING  to our clients (ie. dog grooming salons, dog breeders, show dogs) across the USA. What gives us a distinct advantage and sets us apart from others is that we  understand the business from both sides. We own a  pet grooming salon and understand first hand the importance of owning and taking care of  clippers, scissors and blades.  We travel to all the dog shows and trade shows and talk to our clients about what they need and we understand their needs because we have the same needs in our dog grooming salon.
---
Sal's Blade Shop 4065 Millersport Highway, Amherst, NY 14228
Phone: (716) 867-1439 Email: info@salsbladeshop.com